About Tracy Bullinger - Dog Breeder
Her record as a breeder/owner/handler in North American remains unmatched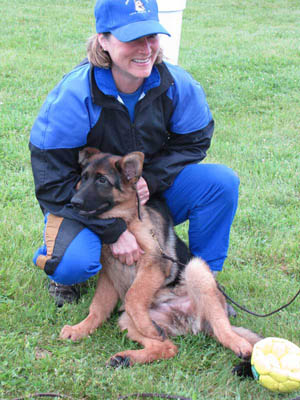 Tracy Bullinger has been training, showing, handling and breeding German Shepherds for over 25 years. In the early days Tracy learned quickly that the true German Shepherd was not of extremes but as Max von Stephanitz said "in the Golden Middle" She has continued to strive for this middle ground holding true the principals as outset by the SV, unlike so many that find the extremes more easily attainable.
Since Tracy started breeding she has bred 100's of litters and 100's of dogs that have obtained either Schutzhund, obedience, or tracking titles, are serving as search and rescue dogs,therapy dogs or police service, multiple high in trial dogs, for either Schutzhund or AKC/CKC Her accomplishments include:
Dog's bred:
12 Canadian National Sieger/Siegerins
Over 100 V-rated dogs at USA National Shows
11 VA dogs from her own breeding program
In 1994 Tracy bred more Breed Surveyed dogs than any kennel in the World!
1st place Kennel Group at the USA Sieger Show on three occasions.
1st Place Kennel Group at the Canadian Sieger Show every time shown
12 Canadian Champions, 7 more with points, multiple Group Winners and Best in Show
Canada's first Conservation Dog
One of Canada's top RCMP Tracking dogs
10 Canadian Champions, 7 more with points
Regional FH Champion (96 points)
3 Time SchH3 National Competitor
#1 stud dog for the GSDC of American Annual Training Achievement Awards
World Qualifier
Regional SchH3 Champion and SchH2 Champion
Numerous dogs with v-scores in all phases (including 99 points in protection)
Number one stud dog at the USA Sieger Show
As a handler:
Qualified for the World Championships with her own breeding stock
Won the B.C. SchH3 Regionals
Handled over 100 dogs successfully in bitework at all National (sp) Sieger Shows
Handled over 100 dogs successfully for KKL 1 ratings at Breed surveys
SchH3 Club member
High in trial for CKC obedience (197 points)
Finished and pointed numerous dogs in CKC and AKC show rings
Gold medal in Sports points
Obtained V scores in all phases (100 points in tracking) (97 points in obedience) (96 points in protection) with dogs she has trained from the beginning